Note from the Author
I'm not getting paid by anyone to write this up, I'm just so thrilled with this hunt, the assistance of the company that books hunts, and the outfitter who I went with. Providing this to all my hunting friends, and if interested in Gould's turkey hunting read on.
The Area and Outfitter Service and Hunting Outfitters
I went to the Mexican State of Chihuahua, Mexico last week from 19 Apr – 24 Apr 2022. I have to start out by saying that this was a highly successful, personally rewarding hunting trip. I can't say enough about Tim Herald and Travis Baker of Worldwide Trophy Adventures (WTA) as well as the entire administrative, lodging, and hunting staff at El Halcon Outfitters. Tim turned me on to El Hacon, and they performed in outstanding fashion!
To begin with, WTA vets all of its outfitters they list and recommend by personally going to them and hunting with them before they will list them as recommended outfitters. Tim Herald specializes in international hunts, and is an equity owner executive at WTA. When planning this hunt, he took time out of his incredibly full schedule to exchange texts, emails, and chat with me on the phone multiple times. Tavis Baker has been equally helpful on all of my previous hunts. Great people!
In the end I booked with El Halcon Outfitters in Mexico. As it would turn out, my goal of taking two Gould's turkeys, one each with bow and shotgun, was achieved. I now have my National Wild Turkey Federation (NWTF) Royal Slam – filling tags on Easterns, Osceola, Rios, Merriams, and Gould's turkeys.
The Hunt and El Halcon Outfitters Experience
I flew down to the city of Chihuahua, and upon arrival was met by the outfitter's lodge manager and lead guide Carlos Enriquez. He personally assisted me in working my way through customs, and getting myself and all the other hunters to the lodge located in the western area of the Mexican State of Chihuahua in the Sierra Madre Mountains.
Upon arrival at the lodge, we had a planning session, were all matted up with our guides, and to my luck and good fortune I was guided by Carlos himself. All of the guides were extremely experienced in hunting this species of bird in this area of 100,000 acres El Halcon hunts.
The first day, I found out that Carlos could work mouth, box, and slate calls like you wouldn't believe. Best calling I've ever heard of or experienced in person. We had three hens come in to our set up hunting out of a ground blind and using a hen and jake decoy. I've never seen birds this big outside of ostriches in the zoo. From a sitting position on chairs in the blind, we were eye to eye with these critters. Incredibly huge!! They came in hot and mad at the calling looking for the intruding "hen" from Carlos' calling.
Turns out they are very possessive of their territory and came to the calls looking for the "new bird" (hen decoy) that was in their range. We heard plenty of gobbling, and Carlos calling worked a Tom in that was massive and absolutely beautiful. Unfortunately he hung up out of range. One of the best outings I've had in turkey hunting with all the action.
The second day we set up in the ground blind again in a different location, and had a Tom absolutely blasting away gobbling two and three times each time on the roost for 45 – 60 minutes. A huge hen came into our set up again, and stomped the living daylights out of the hen decoy. She was very vocal, got inside of 10 yards of our setup, never spooked or spotted us, and hung around for 20 minutes, start to finish. She ended up walking away, and the Tom we heard blasting away flew down, circled us out of sight, and followed the hen. Another wonderful hunting experience!
The third day was windy, and with my hearing being what it is, I had a hard time hearing gobbling or hens cackling away. At 1845 hrs Carlos spotted ~ 10 hens at a rangefinder distance of 50 yards. He also saw a Tom that was with them hiding behind a cedar tree. He talked me through what he was seeing from his vantage point, and I caught on to his location. To our luck, a raven flew over cackling and the flock went nuts. To include the Tom coming out into complete view.
I verified my target, judged him to be very good, waited until the area around him was clear of hens, and launched a single Winchester Longbeard XR 3.5" load at him. Down. Done.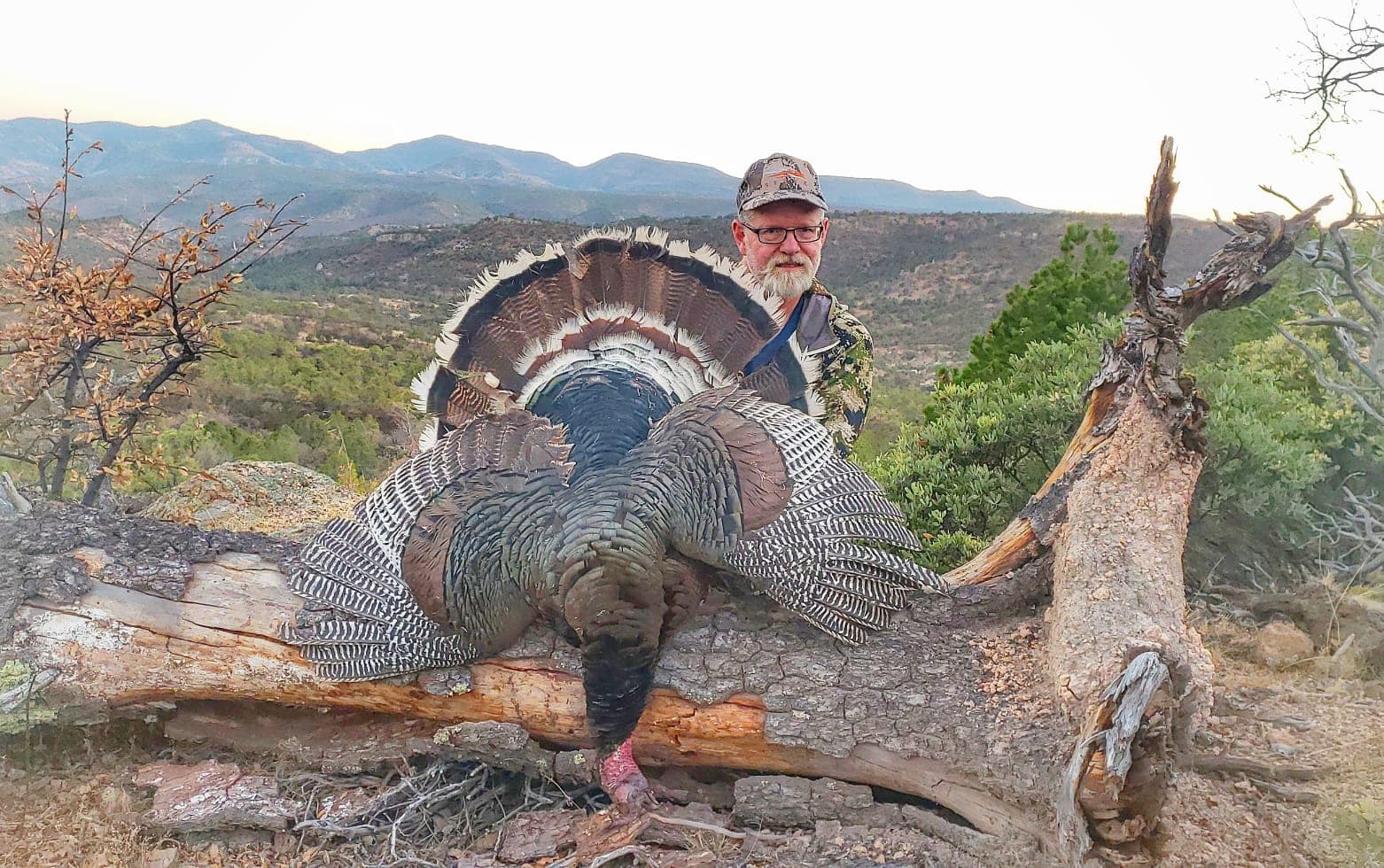 As it turns out, he was a three bearded bird!! The beards totaled 18.5". He came in at 21 pounds 3.2 ounces and was the biggest bird in camp. Incredible! NWTF Royal Slam complete.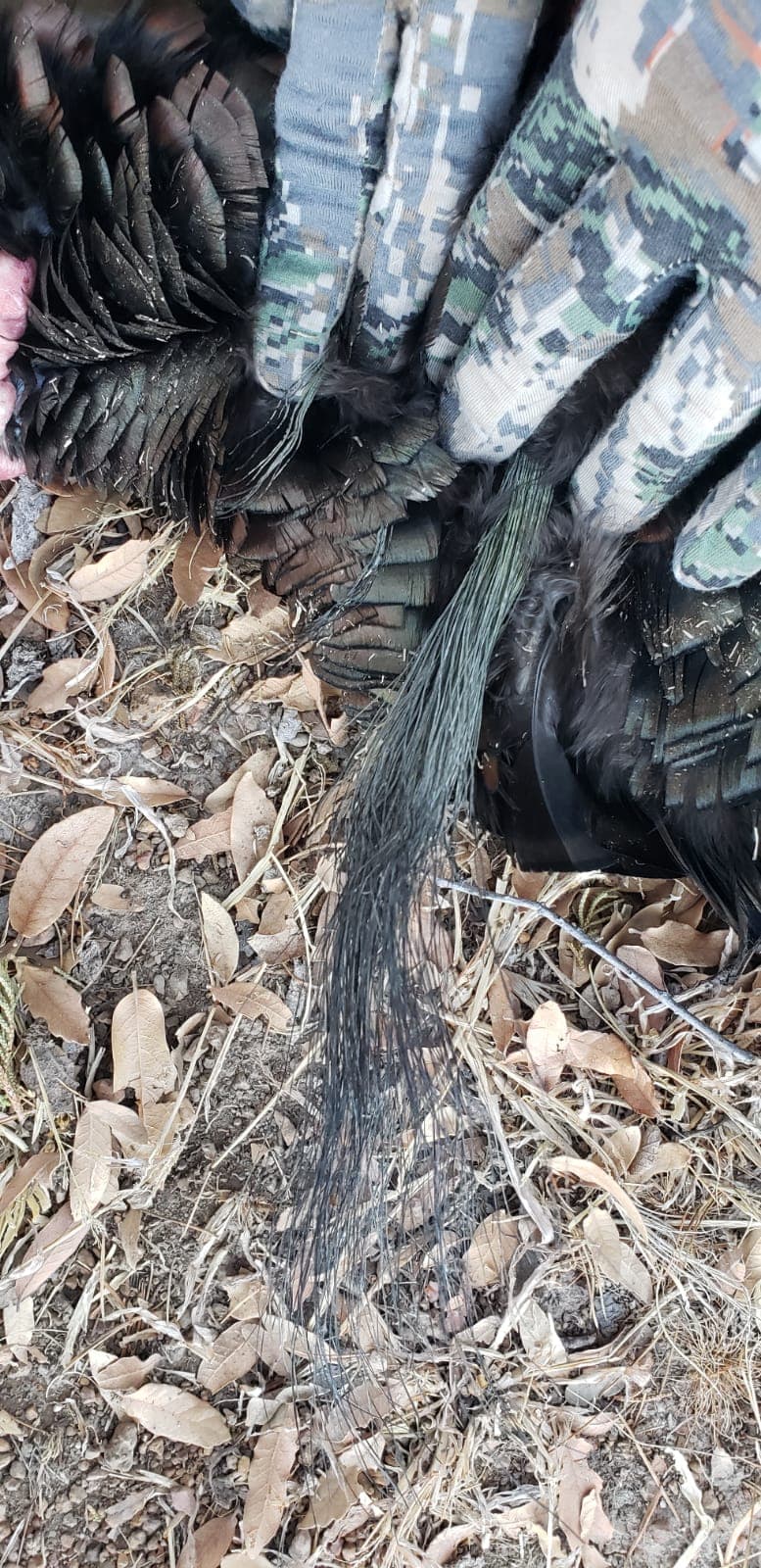 The next morning I was focused on bow hunting, but also brought the shotgun just in case a nice Tom hung up out of range of my bow. At 0830 hrs Carlos got birds calling from at least 300 yards out if not 400. For the next 45 minutes he worked them in with his calling. There was a boss hen with the group that was going absolutely berserk over Carlos' hen calls.
At what I figured the birds to be 100 yards out, I got on the bow, and aimed at where I thought they would come in on us. I ranged it and held position until they showed up exactly where I was focused. The hens came in first absolutely in fighting mode, ready to tackle the "hen" they heard from Carlos' calling.
Then the gobbler came in at full strut behind them. He came in slower, and was very investigative of the area. Cagy birds for sure. The Tom went right on me, and I slowly kept my aim on him. With the hens focused on finding the intruder from Carlos' calling I didn't get spotted. The hens ultimately came in to 15 yards away from my spot.
The Tom hung up behind some shrubs, and then finally stepped out at a rangefinder distance of 30 yards. Again, I validated and verified the target, got a clear sight picture on him, he presented slightly quartering to my left giving me a solid shot, and I launched the bolt.
Devastating results with the Rage Turkey Hypo broadheads I was using. I hit one of his main arteries, literally took out half the "boiler room" and exited through his wing bone. He jumped ~ 2 feet in the air, and flopped about two yards from initial impact. Down. Done.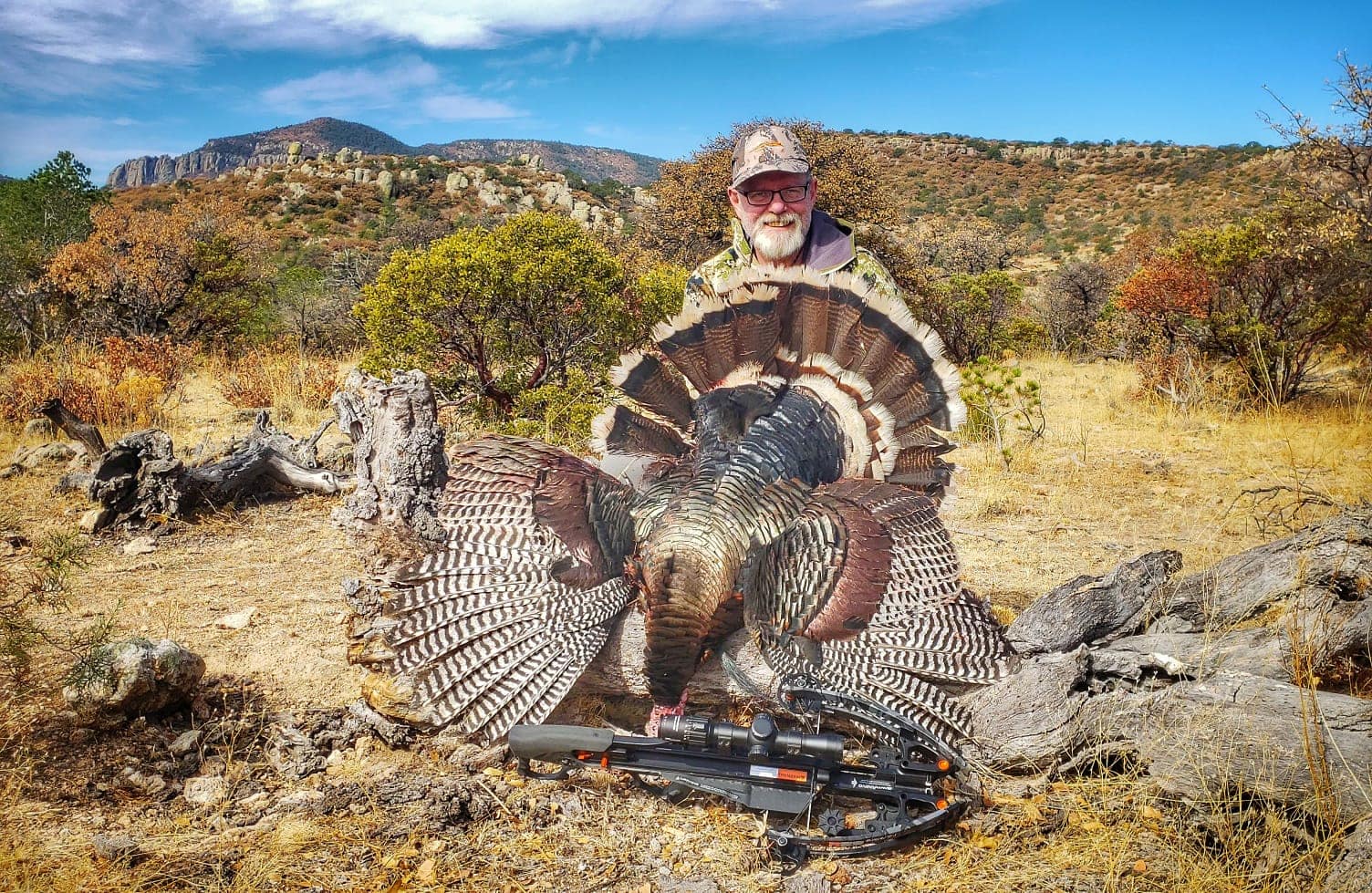 Not including the loss of internals, skin, and feathers due to the impact and broadhead used, he weighed in at 21 pounds even with a 10.5" beard.
My goal of taking two birds, one each with a shotgun and bow, was fulfilled. Incredible hunting experiences at every outing, I had an absolute blast of a time!
El Halcon went above and beyond starting with the administrative items prior to and through booking of the hunt, sending packets of very helpful information, speaking directly with me about what to bring, what not to bring, and getting all import paperwork prepared prior to arrival. Patty Garcia was absolutely great on this front. I had all my NWTF paperwork completed before leaving camp with the assistance of Carlos.
The El Halcon lodge staff were extremely professional and took care of all the hunters with excellent care. The food was outstanding as well. Nothing like homemade Mexican food in Mexico!
The guides were all very experienced and got great results. Out of six hunters, everyone filled at least one tag, two of us filled two tags, three with archery equipment, and a total of 8 very nice birds brought in.
I can't begin to say enough about Carlos Enriquez. He picked me up at the airport, took care of us all at the lodge, guided me, and at the end personally took us all back to the airport. His fieldcraft and knowledge of the birds and the environment were incredible, and his calling skills
were the best I've ever heard.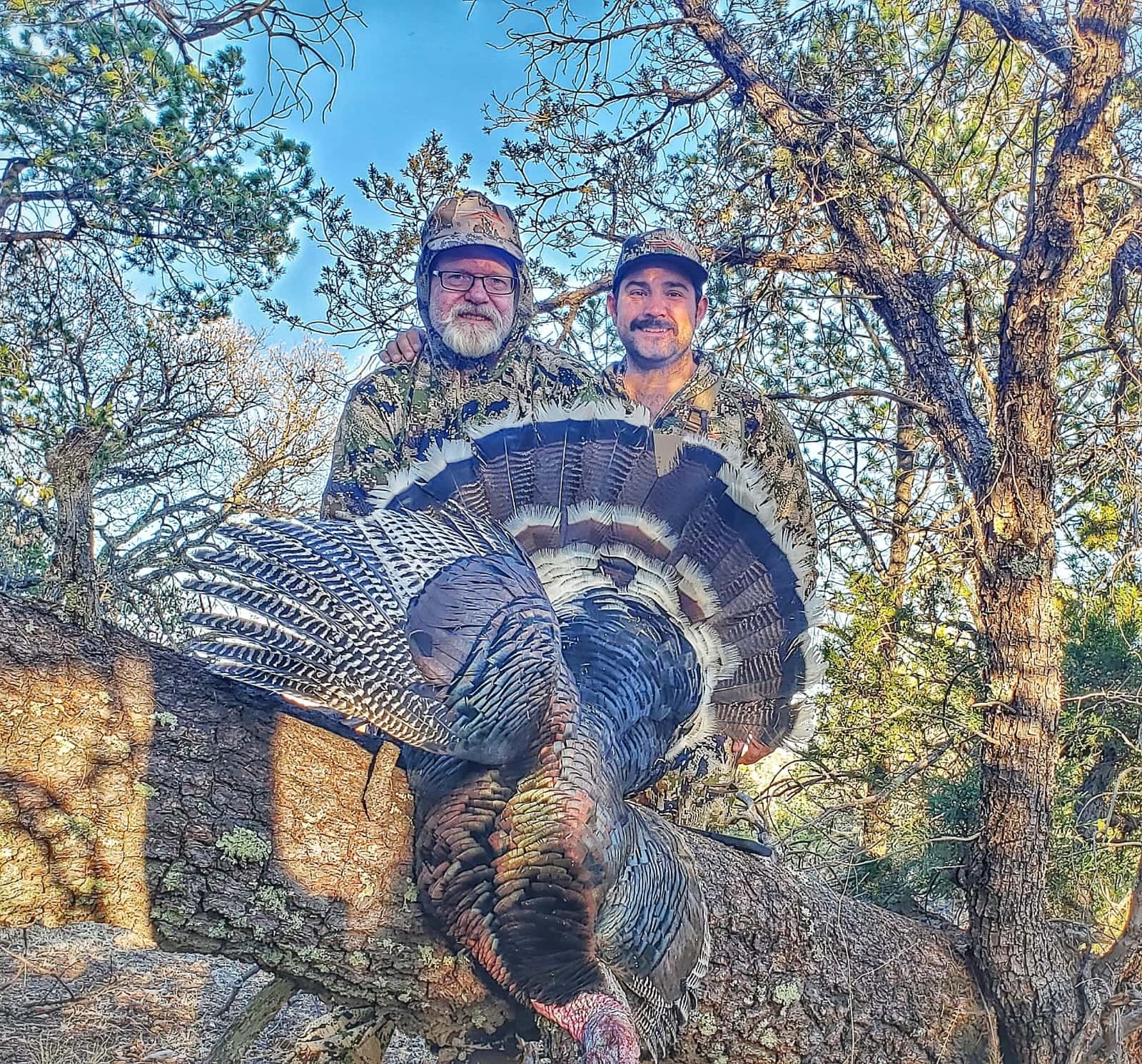 Once the birds were harvested, the staff took very good care of them. They were expertly handled and ready to go home by the time we went back.
I can personally continue to recommend working with WTA for finding excellent outfitters, and El Halcon was above and beyond any expectations I had going in. The area we hunted and the lodge in and of itself, made for a fantastic vacation as well. I am so satisfied that the day after I came home, I started the booking process for another hunt with El Halcon in the Yucatan for ocellated turkeys. They also offer plenty of waterfowl hunts.
Lesson Learned and Recommendations
Make a gear list and use the recommendations from the outfitter to get prepared for the hunt. Double check everything before leaving. I was so excited about the hunt I left a couple of items at the house I could have used. No fatal flaws however.
You're at 7,500 feet in elevation at the El Halcon lodge. We hunted from ~ 6.5k – 8k feet. As I learned in Iraq and Afghanistan, you can't drink enough water in the high desert.
Get in shape!
Perfect practice makes perfect execution in the field. I had two each one shot one kills on these birds. Not bragging here, just saying…. I can go on forever about things I've learned along the way with regards to marksmanship. Practice like you are going to hunt. Sitting, kneeling, up against a tree, from a blind, prone, and so forth. Practice out to ranges of 60+ yards with your shotgun, and at least 50 with your bow.
Read, learn, watch turkey hunting videos, go turkey hunting with a seasoned hunter to hone your hunting fieldcraft. Turkeys can reportedly see at 200 yards what we two legged human animals can see at 20 yards. My personal field experience proves that to be roughly accurate.
If hunting two birds with shotgun and bow, take both on every outing. If the birds hang up at 50 yards, you've got your shotgun at your disposal.
El Halcon's shotguns were excellent. Think twice about bringing any manner of firearms or ammunition with you, and talk it over with Tim from WTA and Patty from El Halcon. As I learned years ago, listen to your guide and don't think you can out think them. They are very open to suggestions, but they live there and have hunted the area for years.
This specific breed of wild turkey in this area is very different than all the other breeds I've hunted. The hens are extremely aggressive, Tom's putt in a low tone, and they are huge! Let your guide work the birds, and listen to their experience hunting these birds in this area. They live there, and have hunted the land for years upon years.
You can't import the meat. We ate turkey meals that were incredible, then donated the balance to the local families to use.
I highly recommend going through WTA. I've booked a dozen or more hunts through Tim and Travis, and have yet to come home empty handed. Jinxing myself here: I've filled all my tags to date with excellent results. WTA sends their staff members to every outfitter they are considering, personally vet each outfitter, and then only list the ones that are the best.
In the high desert, rocky hard pan surface. The birds tend to wear their spurs down strutting and fighting each other. They wear the beards a bit when foraging. They are the biggest bodied of all six subspecies of wild turkey.
Gear Used on the Hunt
Sitka Gear
All Sitka gear in subalpine pattern. That camouflage worked extremely well in this area and we blended in well with the environment. My guide wore the same.
Zamberlan Boots
Huge fan. They fit me great. Take ~ 8" high over the ankle mountain grade hunting boots. Just like you would elk hunting in the American Rockies. These Zamberlan boots have gone with me afield from the North Slope of Alaska caribou hunting to the Sierra Madres in Mexico hunting Gould's turkeys, whitetail deer and Eastern turkeys hunting in Indiana, turkey hunting in Florida, and working on the farm. They fit very comfortably, provide superior ankle and arch support, and yet flexible where they need to be. Break in was a breeze. I highly recommend trying Zamberlans out.
Ravin Crossbow
I use a Ravin model 29 crossbow. At this stage in life and with some tough milage along the way, arthritis keeps me from being capable of using my Mathew's Creed bow. Borkholder Archery in Indiana is the only place I go for bow work. Incredible customer service, and to their not selling you something that won't work or you don't need, goes to integrity. They are awesome!
Firearm
With import regulations, I was advised not to bring a firearm to Mexico. Tim from WTA personally assured me that El Halcon's scatterguns were excellent, and the results proved he was correct. I used a pump action Mossberg 3.5" 12 gauge from the lodge. Shooting at targets at 49 yards I got spot on in two practice rounds in camp.
Ammo
Another item, and I mean this in all sincerity, Winchester Longbeard XR 3.5" shotgun shells flat work. I use them exclusively. There's all kinds of discussions about TSS, but at better than twice the price, and not to mention the extreme performance of the Winchester loads, I'm sold on them.
Call
All of the El Halcon guides could call like mad! No need to bring your own unless you are beyond excellent with your own. Let the guide do the calling, you focus completely on the hunting.